Hiveword is a suite of tools for writers that can help you organize your novels and get better at the craft of writing.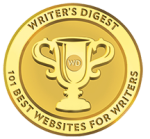 Mike Fleming launched the Writer's Knowledge Base (WKB) in 2011. The WKB is a search engine for writers that makes finding greater articles on writing a snap. Author Elizabeth Spann Craig is the content curator.
Though it was in development before the WKB, the novel organizer was released later in 2011. The organizer provides writers a way to organize their novels on the web by tracking characters, scenes, plotlines, and more. The "platform" nature of Hiveword was starting to take shape as the WKB could be personalized with a Hiveword account.
In 2013, Mike worked with writing coach James Scott Bell to bring expert guidance to Hiveword via the Knockout Novel module. Knockout Novel can help you take your novel to the next level.
In 2016, Hiveword Plus arrived on the scene and added advanced features such as the innovative custom types and fields capability which allows the novel organizer to grow with your needs.
All of the pieces work seamlessly behind a single Hiveword account. Use all of it or just what you need. It's totally up to you! Regardless of what you use, the Hiveword tools can help you:
Why not sign up today and see how Hiveword can help you achieve your dreams of becoming a novelist?